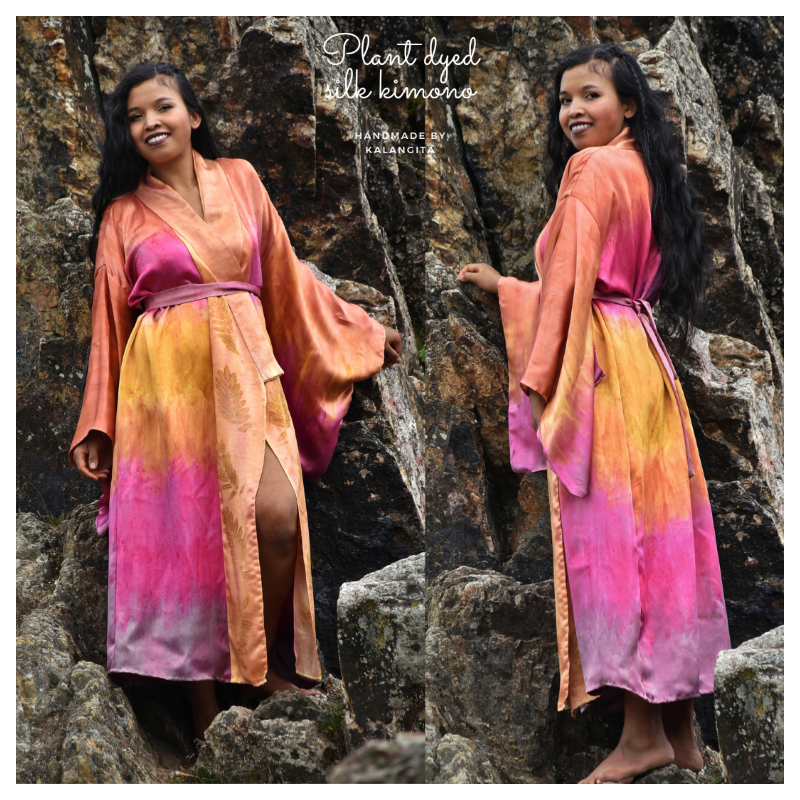  
Silk kimono coat, kimono robe, gradient color silk robe, hand dyed, plant dyed, eco print
A silk kimono coat or dress plant hand-dyed made of heavy silk.

A luxurious noble hand-dyed kimono which is absolutely unique due to the color gradients of the plant dyeing.
Beautiful natural prints of leaves added to the center front and on the collar using the Eco-Print process.
The color extraction for this kimono is time-consuming because several plants need to be  boiled and soaked for a long time to produce the different colors.
Its T-shaped cut is inspired by the traditional Japanese kimono.

This silk kimono made of heavy silk satin is very comfortable to wear and leaves an indescribable feeling on the skin.

Silk satin fabric is smooth and has a shiny nature on the top.

As loungewear or as an item of clothing for various occasions, this kimono is very versatile.

The prices are in accordance with the little businessman
regulation (§19 Abs. 1 UStG) no value added tax contain and proven.


Product customization
Don't forget to save your customization to be able to add to cart
Handmade
Tax free

Return policy
PRODUCT DETAILS:

- Hand dyed with plant

- made of heavy silk satin


FINISHED GARNMENTS MEASUREMENTS : S /M/L/XL

- Front shoulder to Hem: ca 135cm
- Chest circumference: ca 160cm
- Sleeve length (from shoulder): ca 60cm


SPECIAL FEATURES:


This Kimono is made of hand dyed silk. Dyeing with plants is an traditional craftsmanship.
In contrast to chemically dyed fabrics, hand-dyed fabrics are harmonious to each other, complement each other in the most beautiful way
and appear vividly.
They are ecological and sustainable. They also have a good effect on our wellbeing.

On the front part of the kimono are beatiful natural prints of leaves.
With the eco printing process, the natural imprints and colors from leaves or plants, fruits and flowers are transferred to the fabric via steaming.

This Kimono is finished inside with French seam.
The French seam or double seam makes the piece of clothing look classy and high-quality - even from the inside.
The fabric layers are sewn twice so that the seams become invisible. In addition, a very permanent connection is created.

This kimono has a hand-stitched rolled hem.
Elegant, very classy but also a very time-consuming variant to line a piece of clothing.
This creates a seamless hem, and the fabrics fall wonderfully.


WHY SILK?

Silk is a precious natural fiber. Noble, it stands out from other materials, due to its natural shimmer and its color brilliance.
It is particularly comfortable to wear in cold and heat due to its temperature-balancing properties.
This used silk is organically hand-dyed according to traditional methods.
This creates particularly harmonious colors in harmony with nature.


CARE INSTRUCTIONS:

Move hand-dyed silk back and forth in lukewarm water with mild silk detergent without wringing or rubbing.
Then rinse in clear water with a shot of vinegar (I recommend apple vinegar).
Do not let dry in sunlight or in the dryer.

If you are unsure about your size and have questions about it - I am happy to help.
If you are unsure about your size and have questions about it - I am happy to help.
This coat can be dyed in other colors  according to your wishes. I look forward to hearing from you.
The return conditions can be read in the general terms and conditions and the care instructions can be found here
Data sheet
Composition

Silk
Wool