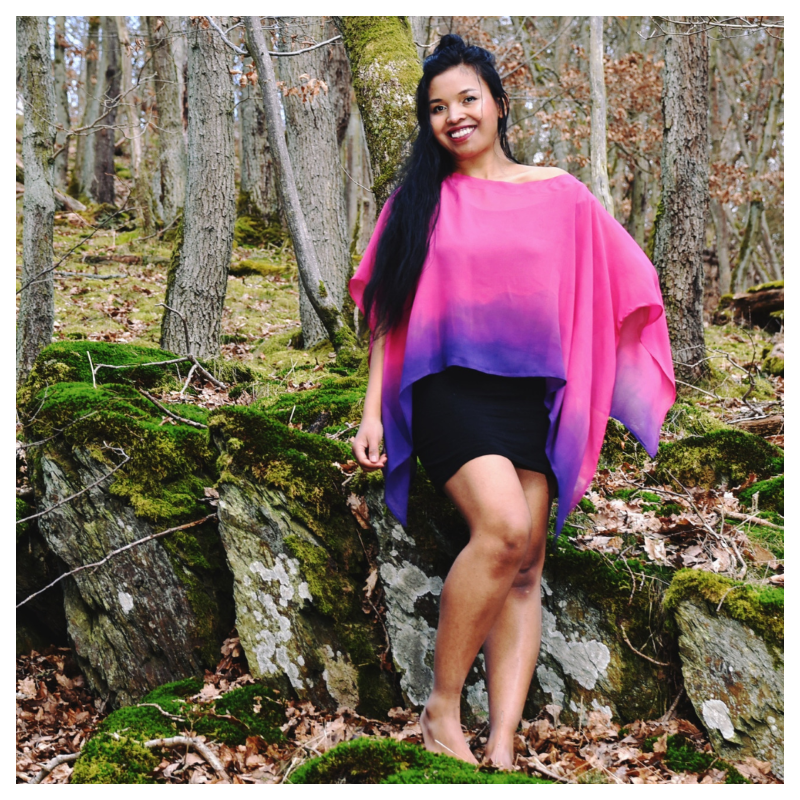  
Silk cape, stole wrap, poncho, shawl, plant dyed, naturally dyed, color gradient, pink
Silk cape, silk scarf, silk poncho, two-tone, light and airy made of 100% silk crepe georgette in light pink-red.

This beautiful silk cape is light and airy. It is versatile to wear and can be combined in many ways.
It can be worn as a scarf, cape, cover up or blouse, making every outfit elegant.
Its has a beautiful color gradient, hand dyed with plants.

The silk cloak is lovingly made from silk crepe georgette.
Crepe georgette falls beautifully, is slightly transparent and very pleasant on the skin.
The twisted yarns create slight puckers on the surface of the fabric, which gives its signature crinkled finish.
Length: ca 120cm
Width: ca 50cm

The prices are in accordance with the little businessman
regulation (§19 Abs. 1 UStG) no value added tax contain and proven.


Product customization
Don't forget to save your customization to be able to add to cart
Handmade
Tax free

Return policy
SPECIAL FEATURES:

 Silk cape is made of hand dyed silk. Dyeing with plants is an traditional craftsmanship.
In contrast to chemically dyed fabrics, hand-dyed fabrics are harmonious to each other, complement each other in the most beautiful way and appear vividly.
They are ecological and sustainable. They also have a good effect on our wellbeing.

It has a hand-stitched rolled hem.
Elegant, very classy but also a very time-consuming variant to line a piece of clothing.
This creates a seamless hem, and the fabrics fall wonderfully.



WHY SILK?

Silk is a precious natural fiber. Noble, it stands out from other materials, due to its natural shimmer and its color brilliance.
It is particularly comfortable to wear in cold and heat due to its temperature-balancing properties.
This used silk is organically hand-dyed according to traditional methods.
This creates particularly harmonious colors in harmony with nature.

PRODUCT DETAILS:

-Hand dyed with plant

-French seam inside

-Made of 100% Silk, crêpe georgette

Finished garment measurments can be seen in the picture.

If you are unsure about your size and have questions about it - I am happy to help.

The lenght can also be adjusted to your height.


CARE INSTRUCTIONS:

Hand dyed silk with a gentle detergent for silk/wool in lukewarm water without wringing or rubbing.
Then rinse in clear water with the addition of a shot of vinegar (I recommend apple vinegar).
Let it dry lying down and without direct sunlight.

You might also like