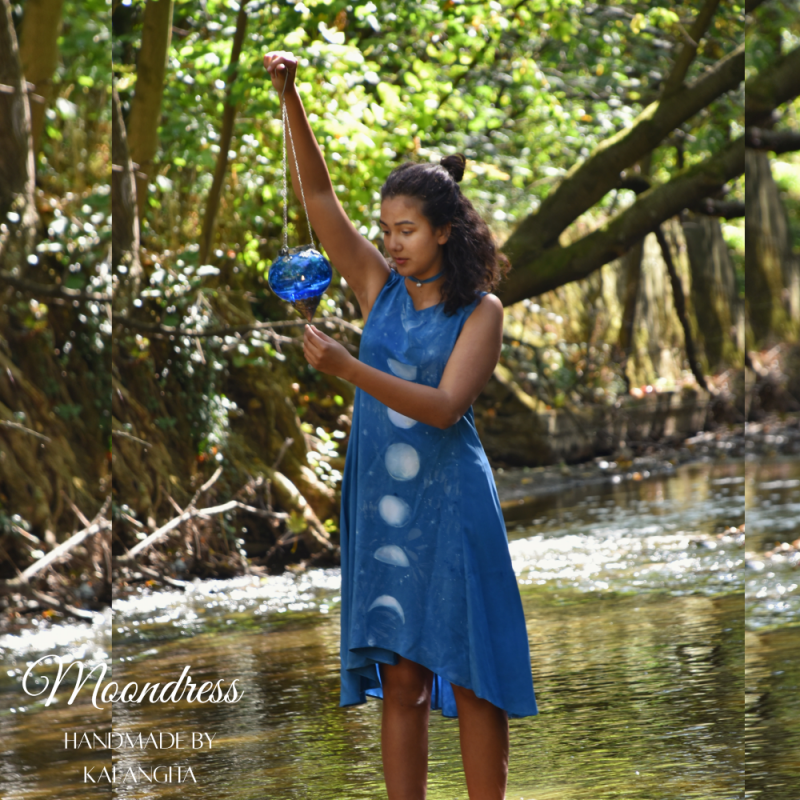  
Silk dress, A-line dress, moon dress, dress with moon phases, mystical dress, hand-dyed with real indigo, shibori Dress
Silk dress with moon phases hand-dyed with real indigo.

The dress has a mystic touch  due to the hand-painted moon cycles on the front.
Due to the old Shibori technique, the phases of the moon become visible after dyeing with indigo.
The white star dots are subsequently painted with silk paints.

The A-line dress is fitted through the natural waist and then flare out softly to create an A-Shape. This dress silhouette is elegant and lovely.

The Viennese seams that run down from the armhole to hem create an elegant silhouette.
The round neckline highlights the shoulder line. The knee length dress emphasizes the legs.

Thanks to the noble flowing fabrics, the dress flatters the figure and looks glamorous.
The crepe de chine silk, the queen of silk, goes perfectly with this dress. It has a delicately
shimmering surface and is flowing and very comfortable to wear.

This dress turns every woman into a goddess.
This dress is versatile and great for every occasion.


The prices are in accordance with the little businessman
regulation (§19 Abs. 1 UStG) no value added tax contain and proven.
Product customization
Don't forget to save your customization to be able to add to cart
Handmade
Tax free

Return policy
SPECIAL FEATURES:

This dress is made of hand dyed silk. Dyeing with plants is an traditional craftsmanship.
In contrast to chemically dyed fabrics, hand-dyed fabrics are harmonious to each other, complement each other in the most beautiful way and appear vividly.
They are ecological and sustainable. They also have a good effect on our wellbeing.


This dress is finished inside with French seam.
The French seam or double seam makes the piece of clothing look classy and high-quality - even from the inside.
The fabric layers are sewn twice so that the seams become invisible. In addition, a very permanent connection is created.

This dress has a hand-stitched rolled hem.
Elegant, very classy but also a very time-consuming variant to line a piece of clothing.
This creates a seamless hem, and the fabrics fall wonderfully.


WHY SILK?
Silk is a precious natural fiber. Noble, it stands out from other materials, due to its natural shimmer and its color brilliance.
It is particularly comfortable to wear in cold and heat due to its temperature-balancing properties.
This used silk is organically hand-dyed according to traditional methods.
This creates particularly harmonious colors in harmony with nature.
PRODUCT DETAILS:
-Hand dyed with real indigo

-French seam inside
-Relaxed fit

-Front crew-Neck
-Made of 100% silk , crèpe de Chine
-Hand sewn rolled hem
Finished garment measurments: S/M/L/XL

- Front shoulder to Hem: ca 95cm
- Chest circumference: ca 90cm/ 94cm/ 98cm/ 102cm/
- Back in the center of the neckline to Hem: ca 108cm
CARE INSTRUCTIONS:

Hand dyed silk with a gentle detergent for silk in lukewarm water without wringing or rubbing.
Then rinse in clear water with a shot of vinegar (I recommend apple vinegar). Iron when damp from the left.
If you are unsure about your size and have questions about it - I am happy to help.
The lenght can also be adjusted to your height.
The dress can be dyed in other colors according to your wishes. I look forward to hearing from you.
The return conditions can be read in the general terms and conditions and the care instructions can be found here
Data sheet
Composition

Silk