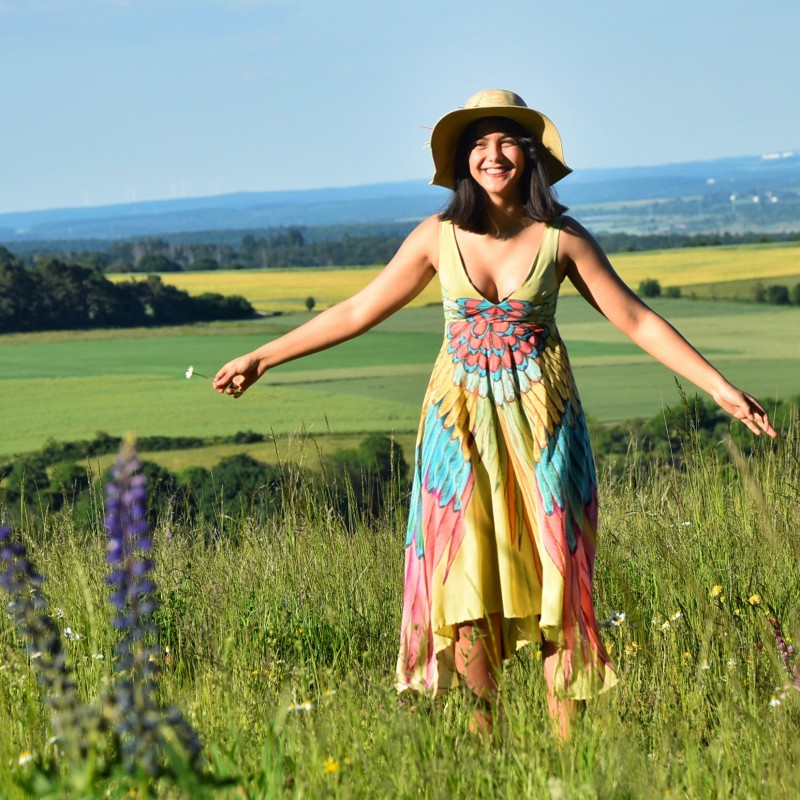  
Feather dress, silk dress, Dress with hand-painted feathers, swing dress for women, silk midi flare dress
Swing dress, Silk dress with flare style with deep V-neck, hand-painted with colorful feathers.

The V-neckline on this dress flatters the cleavage. This dress is fitted through the bust and flows away from the body all the way down. The higher waistline elongates the body which can make appear taller.

The asymmetrical hem, mid-length at the back and knee-length at the front (for 1.75 m tall women) is tantalizing and gives a glimpse of the leg.
The dress is longer for smaller women, but can also be adjusted to your height.
The wide, flared skirt starts right at the waist and provide the illusion of a perfect hourglass body shape.
The beautifully colorful hand-painted feathers make the dress original and special.
It goes very well with the pin-up style or playful retro fashion.

This dress is the perfect choice for just about any occasion.

I love to use crepe de chine silk, the queen of silk for this dress. It has a delicately shimmering surface, is flowing and very comfortable to wear.

The prices are in accordance with the little businessman regulation (§19 Abs. 1 UStG) no value added tax contain and proven.
Product customization
Don't forget to save your customization to be able to add to cart
Handmade
Tax free

Return policy
SPECIAL FEATURES:

This dress is finished inside with French seam.
The French seam or double seam makes the piece of clothing look classy and high-quality - even from the inside.
The fabric layers are sewn twice so that the seams become invisible. In addition, a very permanent connection is created.

This dress has a hand-stitched rolled hem.
Elegant, very classy but also a very time-consuming variant to line a piece of clothing.
This creates a seamless hem, and the fabrics fall wonderfully.

This dress is hand-painted, creating a unique piece of uniqueness. I use silk paints that are vapor fixed.
The silk retains its flowing shape and the color glow intensely.
 
WHY SILK?
Silk is a precious natural fiber. Noble, it stands out from other materials, due to its natural shimmer and its color brilliance.
It is particularly comfortable to wear in cold and heat due to its temperature-balancing properties.


PRODUCT DETAILS:
Hand painted

Front and Back V-neck

Back Zipper

French seam inside


Made of 100% silk crèpe de Chine
Finished garment measurments: S/M/L/XL

Front shoulder to Hem: ca 120cm


Chest circumference: ca 85cm/ 89cm/ 93cm/ 97cm/

Waist circumference: ca 74cm/ 78cm/ 82cm/ 86cm

Back shoulder to Hem: ca 140cm
If you are unsure about your size and have questions about it - I am happy to help.
The lenght can also be adjusted to your height.
The dress can be dyed in other colors or differently hand painted according to your wishes. I look forward to hearing from you.
The return conditions can be read in the general terms and conditions and the care instructions can be found here
CARE INSTRUCTIONS:

Never soak hand-painted silk, but wash briefly in cold water, then rinse with cold water and roll up in a towel.
Afterwards iron from the left side in a damp state.
Data sheet
Composition

Silk