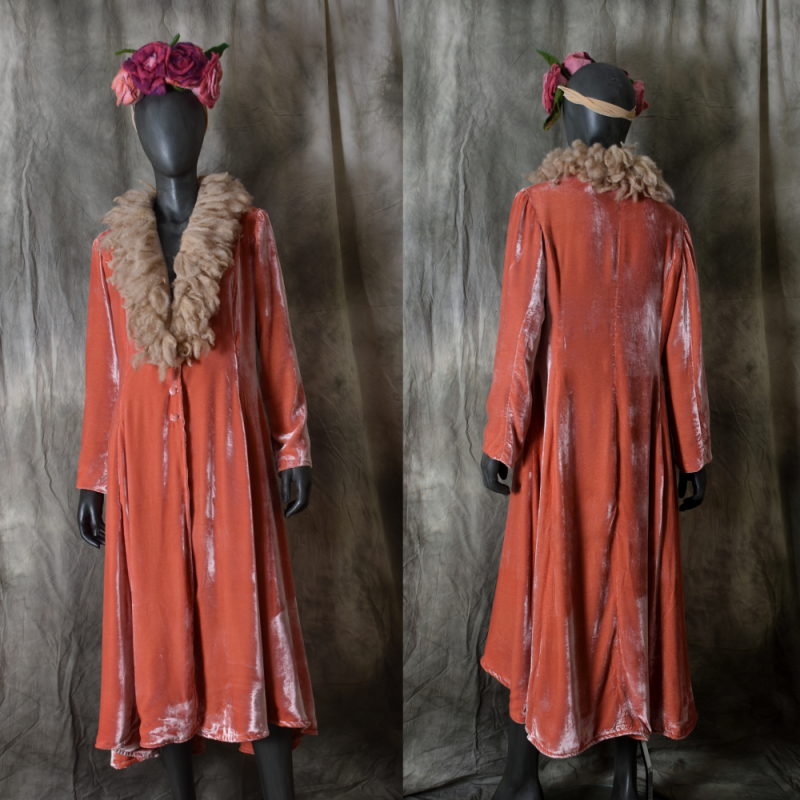  
plant hand dyed silk velvet coat in vintage style with felted fur collar, wool collar
A plant dyed and  hand dyed silk velvet coat with a faux fur collar made from felted wool.

A luxurious, classy shimmering coat that looks particularly magical.
The fluffy collar frames the face and protects against the cold wind.
An eye-catcher made of felted curly wool from sheep's wool.

The silhouette of the coat flatters the figure.
The coat in A-line, which becomes wide at the bottom, has a great fit thanks to the dividing seams or Viennese seams. With the wide swinging skirt it exudes a cool vintage flair.

This coat is lined with pongee silk, has 2 seam pockets at the front and is closed with 3 buttons.
Both the outer fabric and the lining and the wool for the collar are hand-dyed with plants.

This coat leaves the luxurious feeling on the skin because it is made of a very high quality material such as silk.

The silk velvet used for this coat is a mixture of viscose and silk (80/20). The silk velvet has a silky sheen, a soft drape and is very cuddly and soft due to the velvet pile.
Velvet is made using a special type of weave. If you move it, the gloss and mattness alternate, which lead to beautiful changing color effects.
The plant dye enhances these beautiful color effects that create a strong and vivid colors in contrast to chemically dyed silk velvet.

The silk velvet coat is great for evening wear, but surprisingly also works very well with everyday outfits.
It gives every look a classy touch.

If you would like this coat in your favorite color, please notify me, because plant-dyed silk velvet in other colors is possible and beautiful.
The prices are in accordance with the little businessman
regulation (§19 Abs. 1 UStG) no value added tax contain and proven.
Handmade
Tax free

Return policy
PRODUCT DETAILS:
- Hand dyed with plant
- Outer Fabric is silk velvet (82% Viscose, 12% silk)
- Lining pongé silk

FINISHED GARNMENTS MEASUREMENTS : S /M/L/XL

- Length ca: 120cm
- Chest circumference:  100cm/ 104cm/ 108cm/ 112cm
- Waist circumference:  92cm/ 96cm/ 100cm/ 104cm
-  Hip circumference: 148cm/ 152c/ 156cm/ 160cm
SPECIAL FEATURES:

This coat is made of hand dyed silk. Dyeing with plants is an traditional craftsmanship.
In contrast to chemically dyed fabrics, hand-dyed fabrics are harmonious to each other, complement each other in the most beautiful way
and appear vividly.
They are ecological and sustainable. They also have a good effect on our wellbeing.
WHY SILK?

Silk is a precious natural fiber. Noble, it stands out from other materials, due to its natural shimmer and its color brilliance.
It is particularly comfortable to wear in cold and heat due to its temperature-balancing properties.
This used silk is organically hand-dyed according to traditional methods.
This creates particularly harmonious colors in harmony with nature.

CARE INSTRUCTIONS:
Move hand-dyed silk back and forth in lukewarm water with mild silk detergent without wringing or rubbing.
Then rinse in clear water with a shot of vinegar (I recommend apple vinegar). Place the garment in a towel and press gently.
Velvet clothing is best left to dry on suitable hangers.
Do not let dry in sunlight or in the dryer.
If you are unsure about your size and have questions about it - I am happy to help.
This coat can be dyed in other colors  according to your wishes. I look forward to hearing from you.
The return conditions can be read in the general terms and conditions and the care instructions can be found here
Data sheet
Composition

Silk
Wool