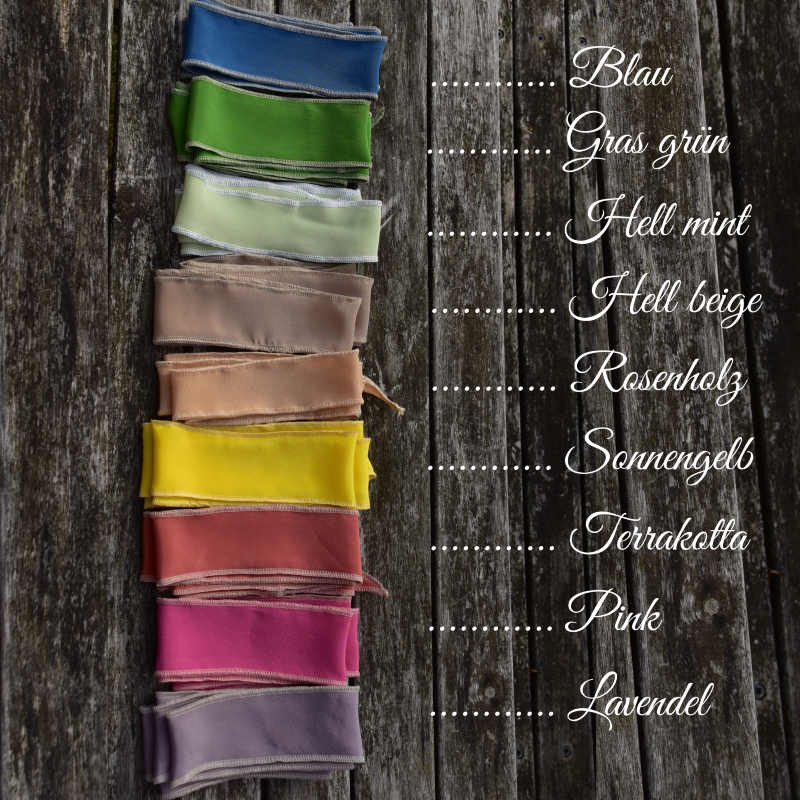  
Silk ribbons, wrap bracelet, silk necklace, made of plant and hand dyed silk crêpe de Chine
Handmade silk ribbons, silk accessory, wrist accessory, hand dyed and plant dyed, with hemmed edges in different colors.

-Available in a SET of 2 or 3 pieces, with FREE COLOR CHOICE

These ribbons are multi-functional silk accessory and great for silk wrap bracelets.
Make a statement tying this silk ribbon around your wrist.
The silk ribbons are an elegant eye-catcher and versatile.

They go well with the felt flowers in my shop and are therefore wonderfully suitable as necklaces, necklaces, headdresses etc.
You can also put pearls and charms on your silk wrap bracelet if you like. Enjoy wearing it in many ways.
These silk ribbons are fully adjustable and very comfortable. They are made of high-quality material: silk crepe de chine.
Crêpe de Chine made of silk has a delicately shimmering surface, is flowing and very comfortable to wear.

The prices are in accordance with the little businessman
regulation (§19 Abs. 1 UStG) no value added tax contain and proven.
SPECIAL FEATURES:

This ribbons are made of hand dyed silk. Dyeing with plants is an traditional craftsmanship.
In contrast to chemically dyed fabrics, hand-dyed fabrics are harmonious to each other, complement each other in the most beautiful way
and appear vividly.
They are ecological and sustainable. They also have a good effect on our wellbeing.
WHY SILK?

Silk is a precious natural fiber. Noble, it stands out from other materials, due to its natural shimmer and its color brilliance.
It is particularly comfortable to wear in cold and heat due to its temperature-balancing properties.
This used silk is organically hand-dyed according to traditional methods.
This creates particularly harmonious colors in harmony with nature.
PRODUCTS DETAILS:

Hand dyed with plant


Made of 100% silk crêpe de chine

Length  ca 100 cm, width ca 4 cm
Product customization
Don't forget to save your customization to be able to add to cart
Handmade
Tax free

Return policy
- Made of 100% silk , crèpe de Chine
- Length  ca 100 cm, width ca 4 cm
I may be able to accomodate special request.
This silk ribbons can be dyed in other colors according to your wishes.
The return conditions can be read in the general terms and conditions and the care instructions can be found here.