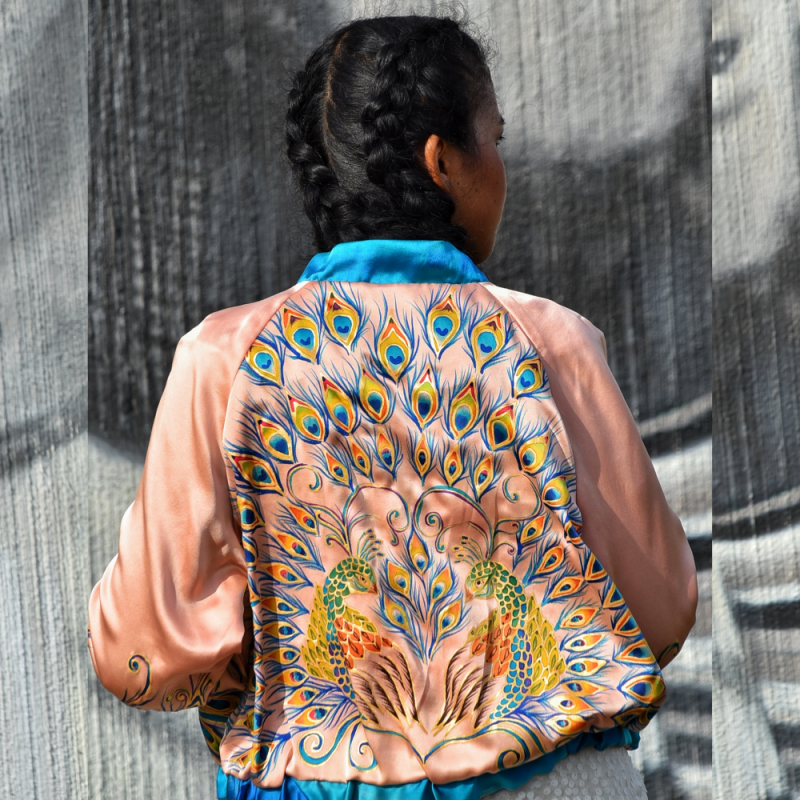  
Cropped silk bomber jacket, hand painted peacock jacket, silk satin jacket, cropped jacket, blouson jacket, souvenir jacket
Make a wow statement on the street with this cropped silk bomber jacket with two peacocks in love.

This cropped silk satin Jacket is featured by an eye catching and stunning silk painting. It is hand painted with colorful peacock feathers.
It is made of plant hand dyed silk satin, ecological and sustainable. After that hand painted with beautiful and vivid silk color.

It has sporty raglan sleeves, standing collar, side pockets and elastic hems. This bomber jacket is fully lined with hand dyed silk pongé.
It has a sporty vibe, that makes it look chic and very special. The shiny material silk satin gives the jacket a noble accent and makes it look elegant and classy.

Silk satin fabric is smooth and has a shiny nature on the top, while the underside is finely ribbed, like crepe de chine. Satin silk has a luxurious, elegant glossy look and is extremely comfortable to wear.

The cut originates from military clothing and become a standard fashion item over the time. It is easy to wear and can by styled with casual essentials.
Style it with sneakers and comfy pant of keep it glamour and ladylike by sporting heels, pencil skirts.
The prices are in accordance with the little businessman
regulation (§19 Abs. 1 UStG) no value added tax contain and proven.
Product customization
Don't forget to save your customization to be able to add to cart
Handmade
Tax free

Return policy
SPECIAL FEATURES:

This jacket is made of hand dyed silk. Dyeing with plants is an traditional craftsmanship.
In contrast to chemically dyed fabrics, hand-dyed fabrics are harmonious to each other, complement each other in the most beautiful way and appear vividly.
They are ecological and sustainable. They also have a good effect on our wellbeing.


This jacket is hand-painted, creating a unique piece of uniqueness. I use silk paints that are vapor fixed.
The silk retains its flowing shape and the color glow intensely.


WHY SILK?
Silk is a precious natural fiber. Noble, it stands out from other materials, due to its natural shimmer and its color brilliance.
It is particularly comfortable to wear in cold and heat due to its temperature-balancing properties.
This used silk is organically hand-dyed according to traditional methods.
This creates particularly harmonious colors in harmony with nature.


PRODUCT DETAILS:
Hand dyed with plant
Hand painted
Front zipper
Raglan sleeves
Standing collar
Side pockets 
Elastic hems
Made of 100% silk satin
Fully lined with Silk pongé

Finished garment measurments: S/M/L/XL

- Front shoulder to Hem: ca 50cm

- Chest circumference: ca 100cm/ 104cm/ 108cm/ 112cm/


CARE INSTRUCTIONS:

Never soak hand-painted silk, but wash briefly in cold water, then rinse with cold water and roll up in a towel.
Afterwards iron from the left side in a damp state.
If you are unsure about your size and have questions about it - I am happy to help.
The lenght can also be adjusted to your height.
This jacket can be dyed in other colors or differently hand painted according to your wishes. I look forward to hearing from you.
The return conditions can be read in the general terms and conditions and the care instructions can be found here